Greyhound Photographers with Passion
Servicing the greyhound industry since 2000

Ipswich Around the Track Photos
January 2019
---
---
---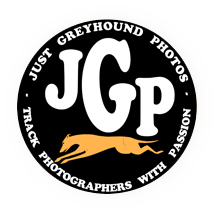 Phone 0412 544 882
Email sales@justgreyhoundphotos.com

Tuesday January 1st
Friday January 4th

Tuesday January 8th

Friday January 11th
Saturday January 12th
Tuesday January 15th
Please note that these photos are yet to be photo enhanced. These are simply a preview of the winners on race day. More images are also available. Please contact us for more options or to discuss your individual requirements.
Phone: Rick or Di 0412 544 882
Email: sales@justgreyhoundphotos.com




Saturday January 5th

Occasionally, we get a chance to have a wander around the track on race days and snap a few random shots. Instead of them going to waste, we would like our customers to benefit from these and offer any of the shots below free of charge as a digital image 500px x 450px.

To save on labour, we have to limit the offer to 3 images per gallery. These images will be free of watermarks and suitable for facebook and web pages. Please email us with Date and Image name.

We can also organise framed prints, just ask us for a quote.